Topset Ordering Information
Please read this section before placing an order for Egyptian Walking Onion topsets.

Our Egyptian Walking Onion topsets are sold in batches of 10, 25, 50, 100, 200 and 500.
We do not sell topsets by the pound.
What is a topset?
An Egyptian Walking Onion "topset" is one of the little "bulblets" that grows in a cluster at the top of the plant. It is essentially a baby Egyptian Walking Onion plant. Below is a comparison of a cluster of topsets and just one topset.
| | |
| --- | --- |
| Cluster of topsets | One topset |
Topset size
Topsets are marble sized. The majority of our topsets range from approximately 1/4" to 3/4" in diameter, however, some may be bigger and some may be smaller. Any order of Egyptian Walking Onion topsets may contain sets that fall in the extreme small or large end of this size range. Meaning, when you order 10 topsets, you may get "big" topsets that are 1" or more in diameter, and you may get "small" topsets that are 1/4" or less in diameter. We deal with thousands of topsets, so the sets you receive are the luck of the draw. However, we do try to send a fair range in size so that you don't receive all small or all large topsets. We strive to grow exceptional topsets that are nice and big. Our average topset size has gotten bigger over the years. We sell most of the smaller topsets as "mini clusters".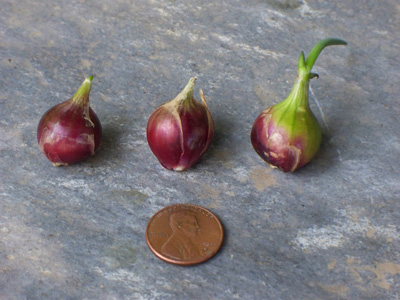 An example of three average size Egyptian Walking Onion
topsets shown with a penny for size reference.
Topset shape and appearance
The shape of an Egyptian Walking Onion topset varies. Some topsets are round, and some are enlongated. Some are even flat! Most all topsets will have a little sprout or roots emerging. Some topsets may have greens up to 3 or 4 inches long. Topset colors range from green to reddish/purple. The outer layers of your topsets will be dry. This is normal and occurs during the curing process. Dry outer layers protect the topsets from excessive moisture loss and entrance of pathological organisms such as mold and bacteria.
What you will receive when you place an order of Egyptian Walking Onion Topsets
When an order is placed, the Egyptian Walking Onion topsets are carefully picked by hand and counted. We always throw in a few extra for positive onion energy! The topsets are placed into a small paper bag (lunch bag), which is then put into a small US Priority mail box. We do not send any planting instructions or other printed material with your order, except maybe a business card. We are striving to be a "green" company so we try to conserve when possible. Since we post general planting directions on our website, we can save paper and ink by not printing and sending them. Thank you for your understanding.
An example of an order of Egyptian Walking Onion topsets.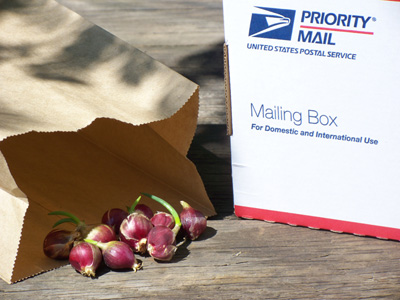 This is an example of what you will receive
when you place an order of 10 Egyptian Walking Onion topsets:
10 topsets (plus extras not shown), a small paper bag, and a box.
What to do with your topsets when they arrive
Onion sets do not store very well. They are not like a seed with a hard outer coating that protects them from extreme environmental conditions. Egyptian Walking Onion topsets are in fact miniature plants. They are very vulnerable and can dry out, mold, or even die if not cared for properly. We continue to sell our Egyptian Walking Onion topsets through the winter, long after we have harvested them all. This is because we cure them before putting them in storage. We store them in a cold, dark place all winter at whatever the outdoor temperature happens to be. The colder, the better! They can remain viable for over 6 months this way, but they would do far better if they were planted in the ground. We recommend that you plant your Egyptian Walking Onion topsets as soon as possible after you receive them. If the ground is frozen or covered with snow when you get your topsets, just plant them in a pot of soil and keep them inside. Keep the pot in a cool, dark place if you don't want them to grow too much. Put the pot in a warm, sunny place if you want them to grow like crazy. Do not over water them. Once per week is good. Make sure the water drains through the soil well. There are more planting instructions on the home page.
You may receive freshly picked topsets which have not been cured. They may have greens up to 3 or 4 inches long. You can plant these topsets immediately or you can cure them by letting them dry in the shade where there is plenty of airflow. When they are fully cured, the outer layer will have hardened and the greens will have dried to a light brown color. Store them in a cool, dry, dark place until you are ready to plant them. A refrigerator works great, but they must remain dry so they do not mold, so never put them in plastic bag or container. A paper bag is better.
Wholesale
Please contact us for wholesale prices on large quantities. We do not sell our Egyptian Walking Onion topsets by the pound or by size, we sell by count only. Ask us about our discounts for schools and nonprofit organizations :-)
Payment



We use Paypal as our payment system. When you click the "Add to Cart" button to place your order, you will be directed to our PayPal shopping cart page. You will see our PayPal account email: "tracy@starsunmoon.com" at the top of the page.
If you don't have a Paypal account, you can still click on the "add to cart" button and pay with your credit/debit card through the secured PayPal website: click the "checkout" button (as opposed to the "checkout with PayPal" button), then click the "don't have a PayPal account" link and you will be able to enter your credit/debit card information.
If you do not want to pay over the internet, you can pay with a check or money order. IMPORTANT: If you plan to pay with a check or money order, please contact me for instructions.
Click here to print an order form.

Shipping
We ship USPS Priority mail.
Shipping for Egyptian Walking Onions within the United States is:
$8.65 (small flat rate box) for 1-2 orders. If one of these two orders is a small box of clusters, then they will need to be shipped in a medium flat rate box and the shipping price will be $15.00.
$15.00 (medium flat rate box) for 3-6 orders
$20.00 (large flat rate box) for 7 and up orders
NO SHIPPING OUTSIDE THE UNITED STATES!
All orders are shipped via USPS Priority Mail except where indicated otherwise.
We will combine shipping!
If your order will fit in a small flat-rate Priority box, then shipping will be a flat $8.65. If your order is bigger, but will fit into a medium flat-rate Priority box, then shipping will be $13.50. Large orders requiring a large flat-rate Priority box will be $20.00. Please notify us if you would like to combine your shipping charges.
Shipping for Plant Catalog items is 1-2 weeks unless you place an order in the dead of winter and I have to wait until the ground thaws to dig your plants.


Thank you for your order!
Happy Onioning!
---


Copyright © 2008-2022 Egyptian Walking Onion(s). All rights reserved.
Egyptian Walking Onion | 301 S 10th St., Garfield, WA 99130 | 509-553-3842 | tracy@starsunmoon.com